I have always been a fan of unicorns since I was a little girl. Lately, I have noticed that there has been a real unicorn trend and you can get all sorts of unicorn-themed things. For the unicorn edit, I have put together a collection of unicorn-themed items which I have found and like, so if you are a fan or have a unicorn fan to buy for, you have lots of ideas. 
Please note that this post contains affiliate links. For more information about what this means, please click here.  This post was last updated in September 2021. All prices were correct at the time of publishing. 
In this collection, there are kids clothes, kids footwear, adults, bedroom, home, baby, toys, and everything else sections. Some of the photos are not of great quality but links have been included for all items so that you can have a better look. 
Kids clothing
There are so many clothes with unicorns available but most seem to be pink and purple so here are some that I found that are a different style that I really like.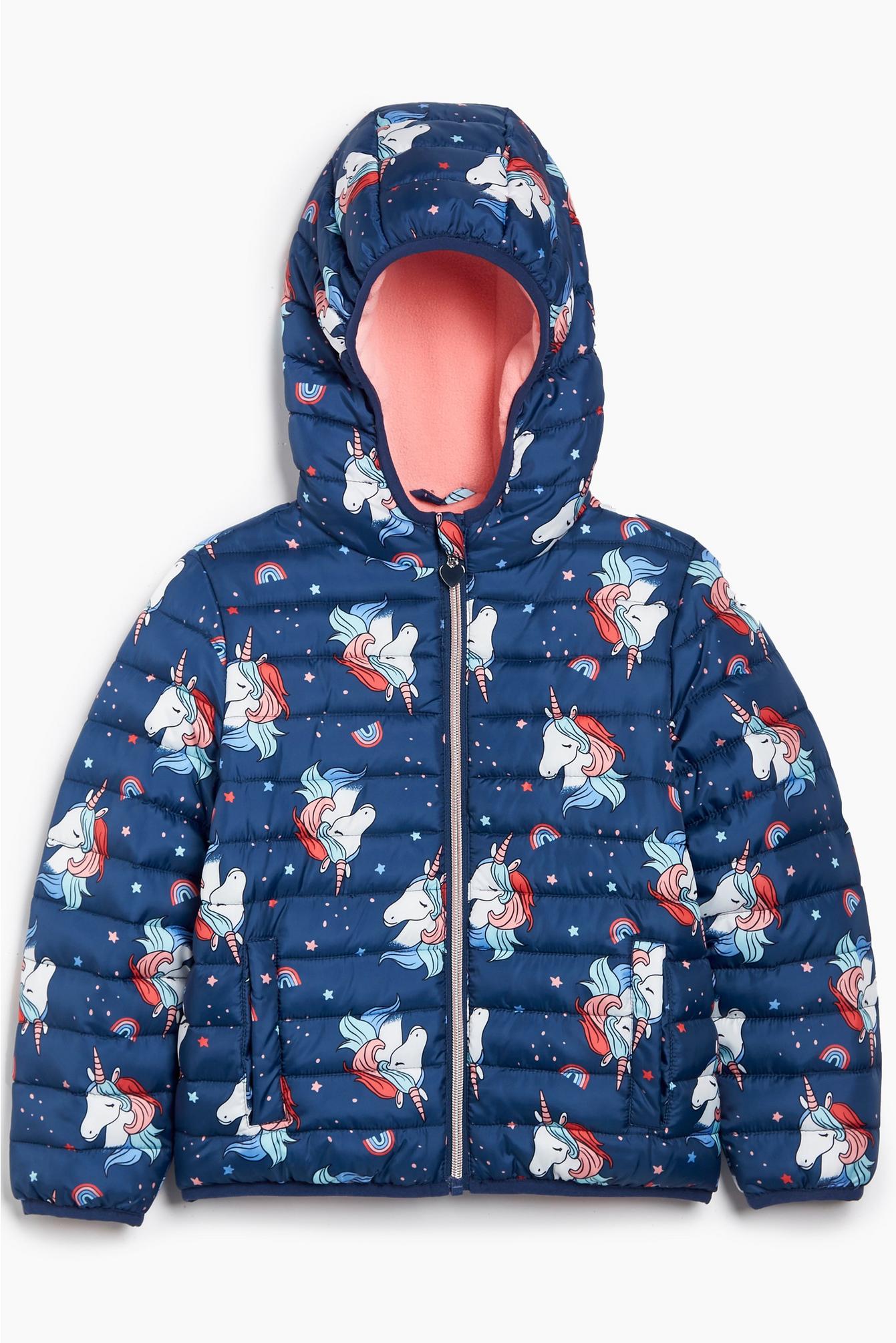 This Unicorn coat from Studio will be great for keeping unicorn fans happy. It comes in size 1-8 years and is priced at £12.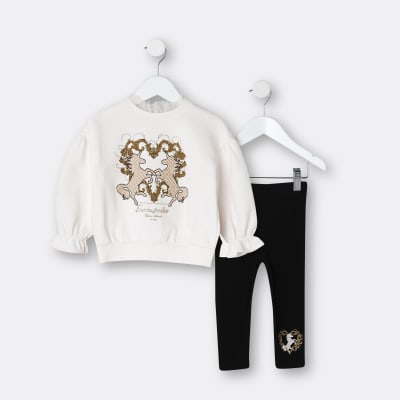 This outfit from River Island is super cute! It comes in sizes 6 months to 5 years and is priced at £25.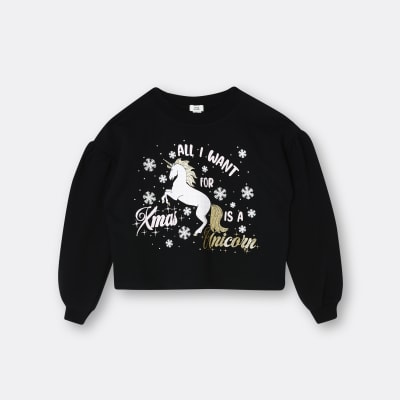 River Island also has this fantastic Christmas jumper. It is priced at £16 and is available in sizes 5 – 12 years.
Footwear
The same can be said for footwear but I particularly like the unisex trainers that I found on Amazon.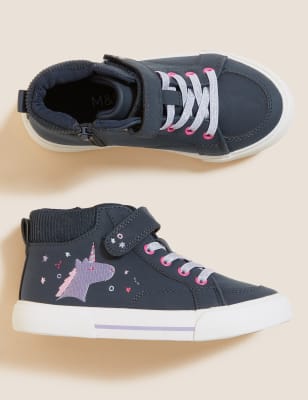 Another great find from M&S is these high-top trainers also available in pink. They are £19 and come in sizes junior 5 – 12.
Adults
You are never too old for unicorns, right?! If you want to sprinkle some unicorn magic into your life or maybe as a gift, then take a look at these. 
Bedroom
Next, we have the bedroom department. There are some beautiful things available.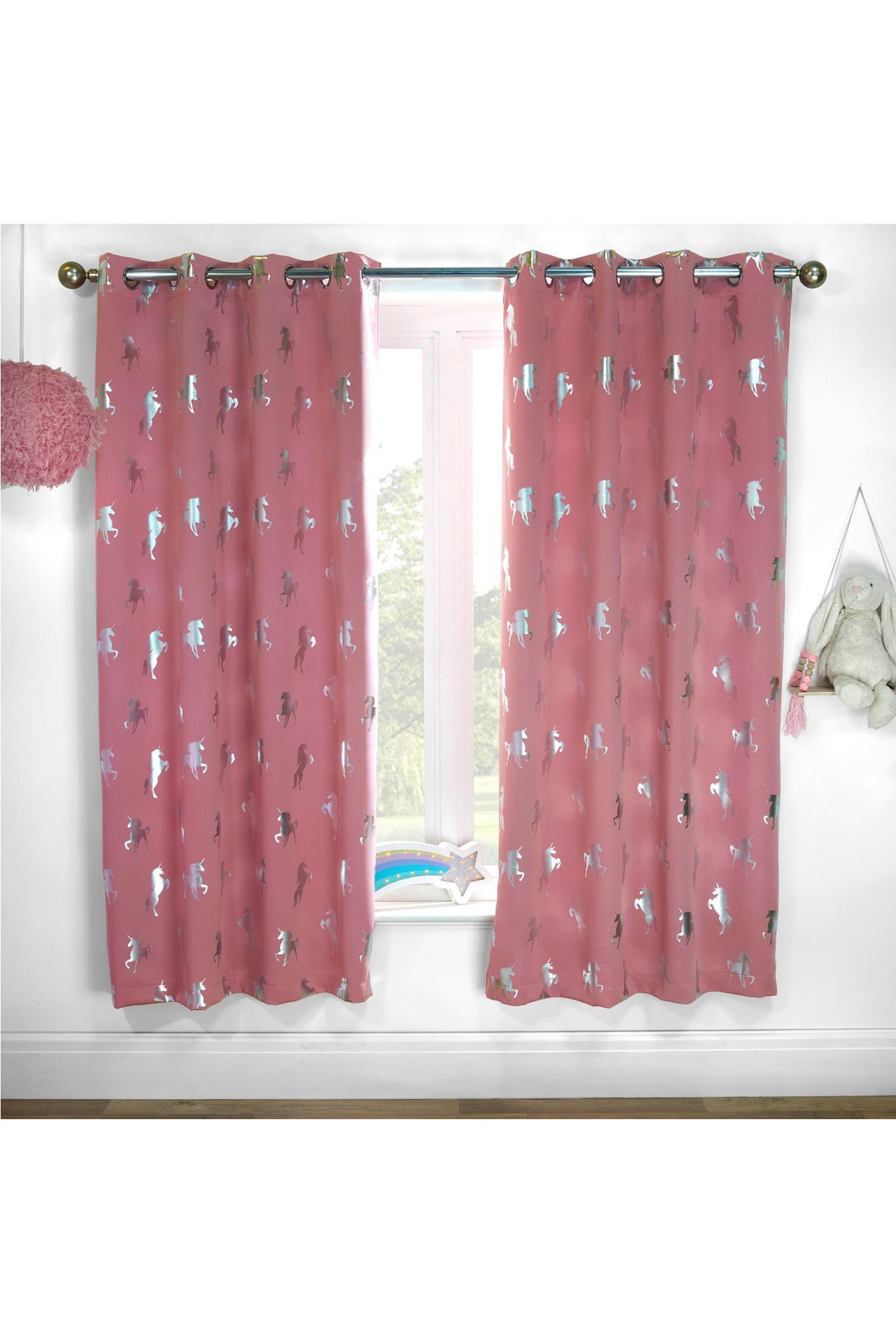 I absolutely adore these metallic blackout lined curtains from Studio. Prices start at £21.99 and vary on curtain size. I wish I still had a little girl to buy these for!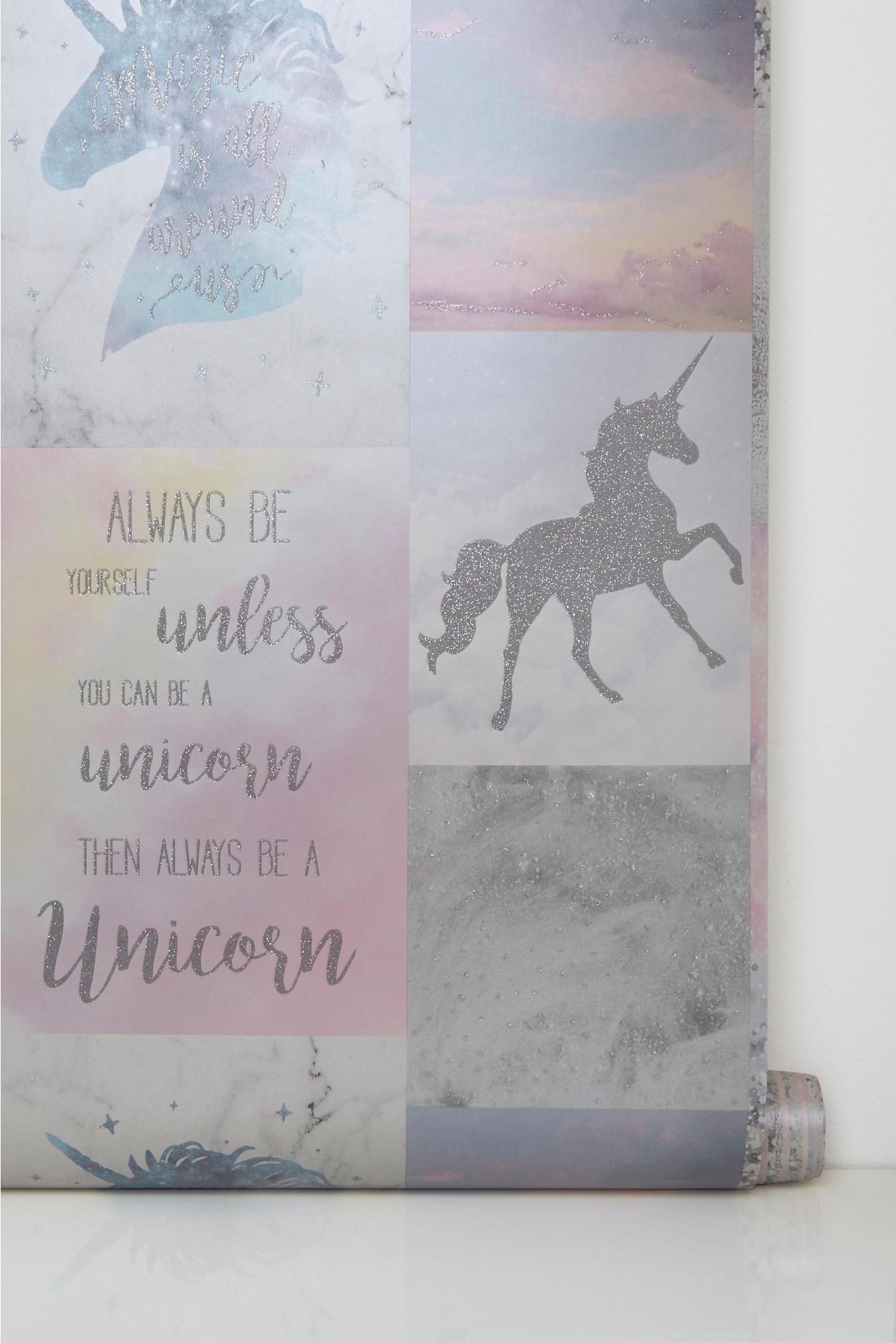 This wallpaper from Studio is made by Arthouse which is the company who made the wallpaper which I used in my living room. The quality of the paper was superb and I think this paper would make a great feature wall in a bedroom. It costs £12.99 a roll. 
Home
Then we move on to the homeware. It was much more difficult to find items in this category but I did still manage to find these little gems.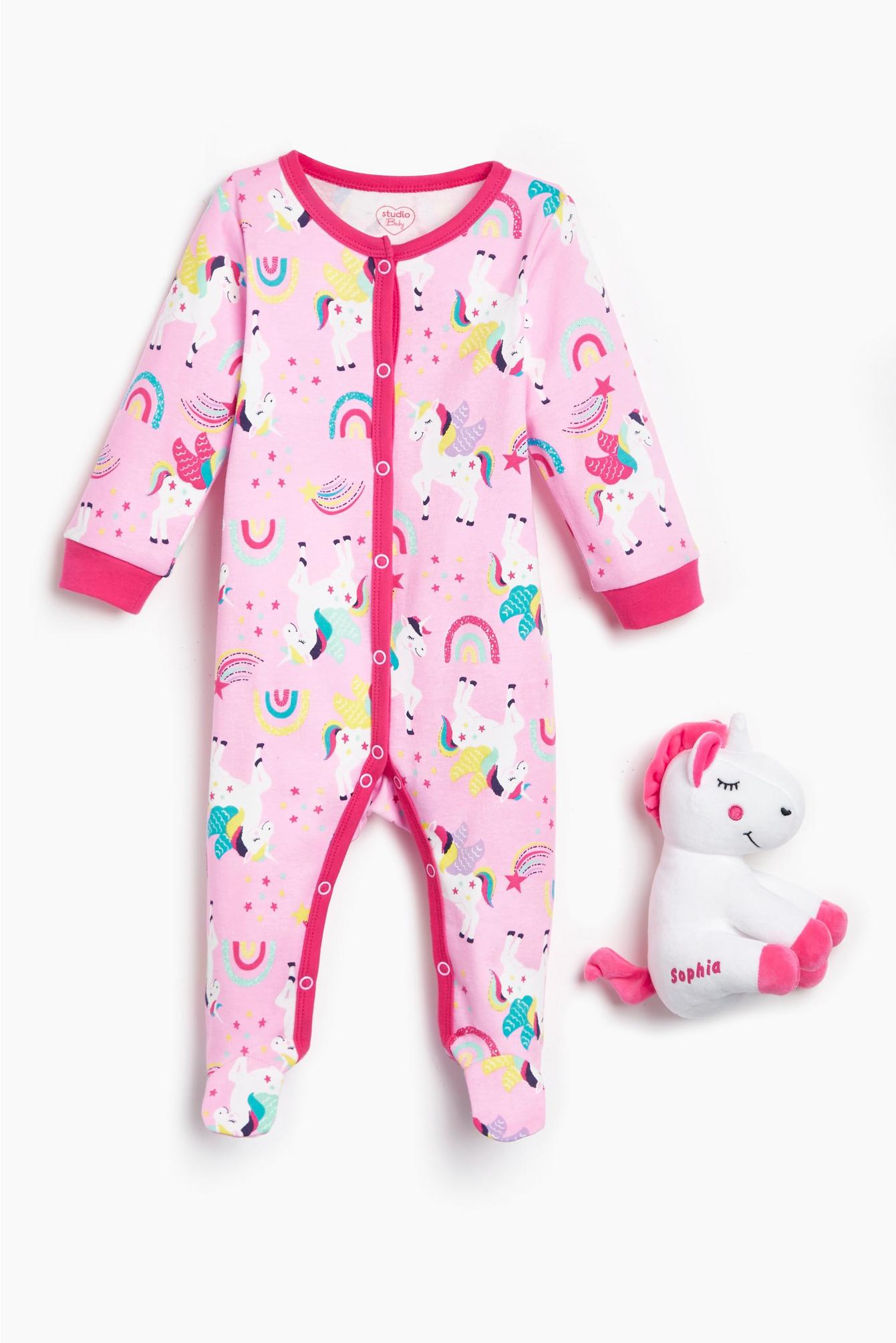 This sleepsuit comes with a personalised unicorn toy and costs just £9! It is from Studio and is available in sizes 0-18 months.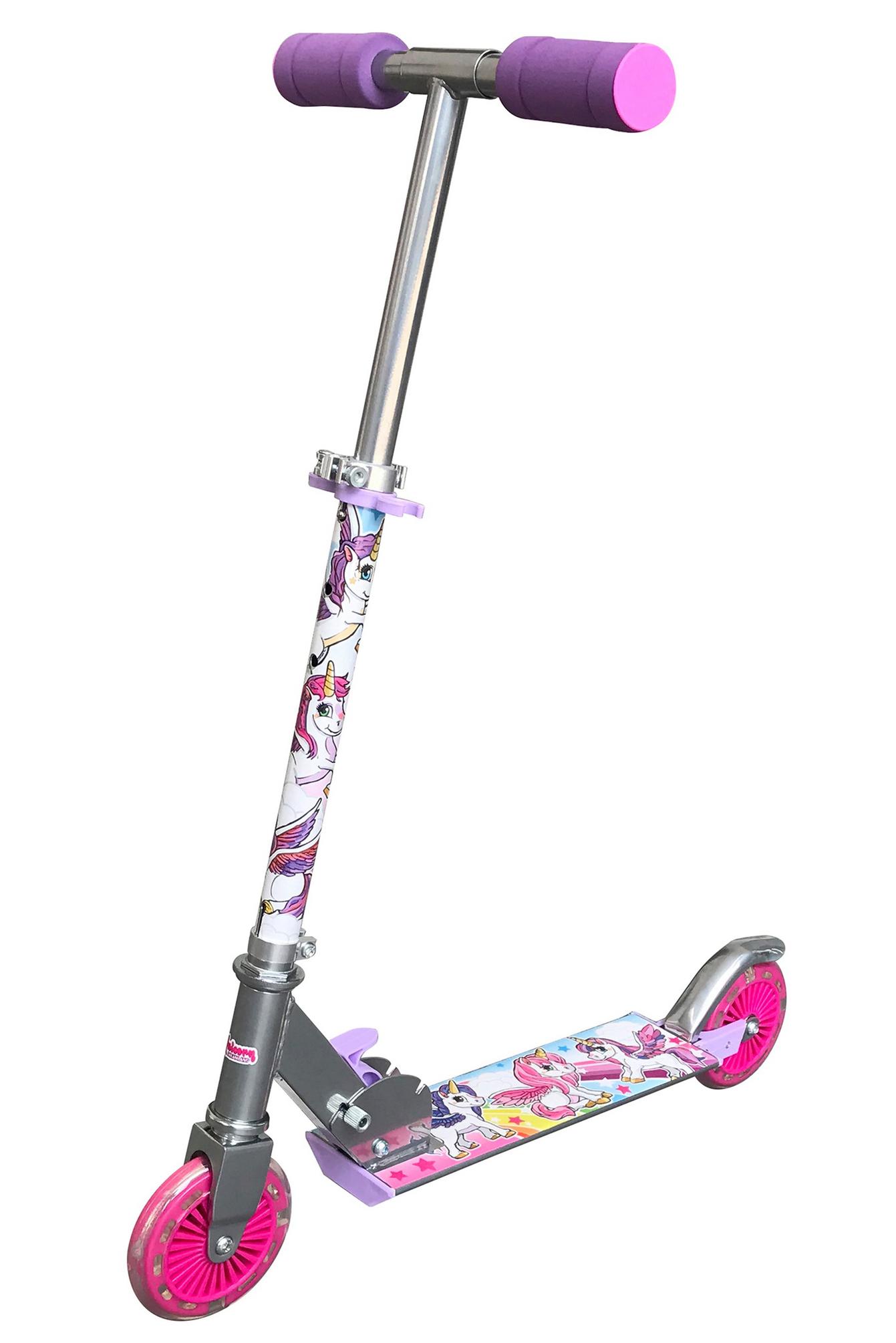 This scooter is really cute, foldable, and has two light-up wheels. It is for kids aged 5+ and priced at £21.99 from Studio.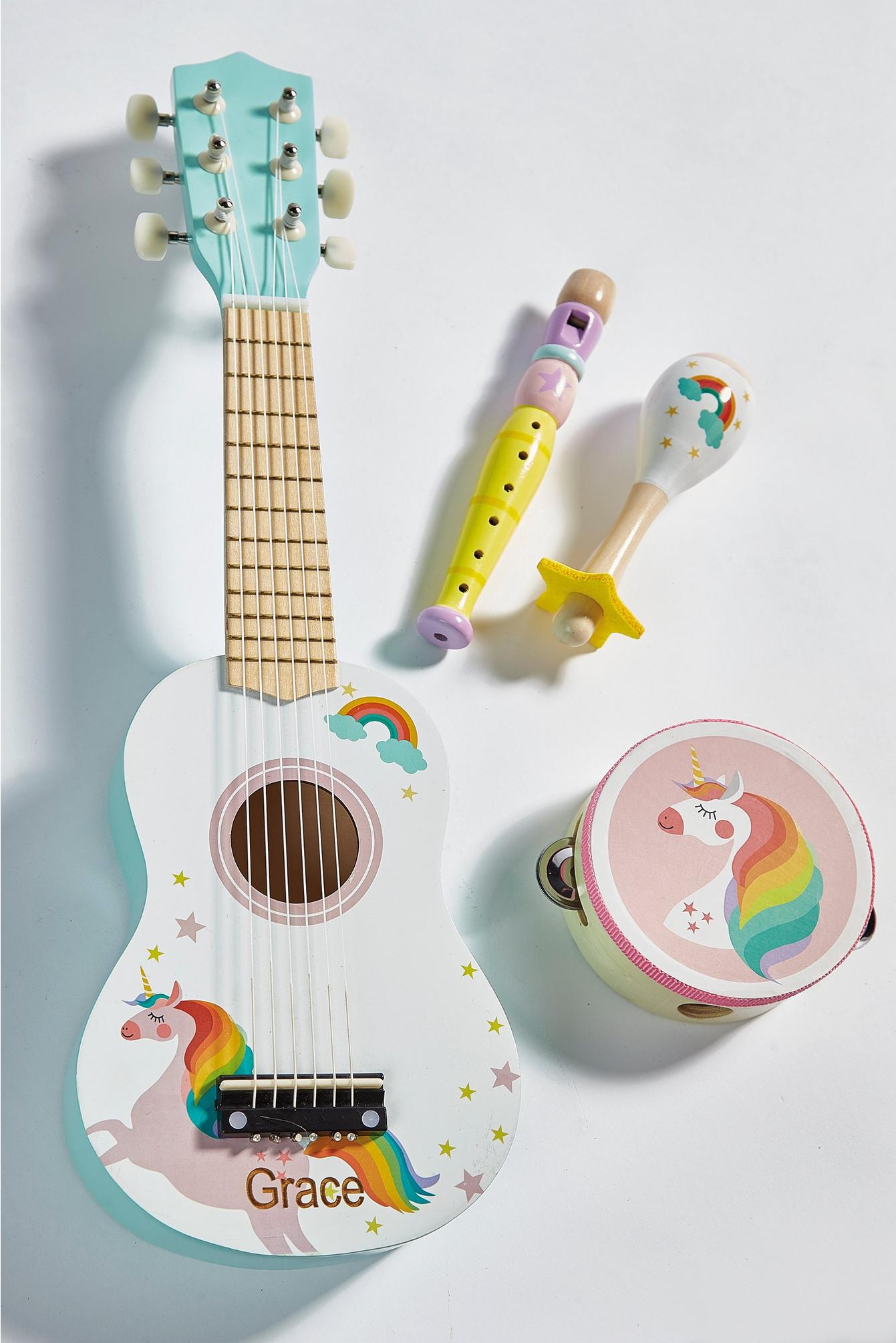 This wooden unicorn-themed instrument set is great value. The guitar can even be personalised at the time of ordering. It comes from Studio and is priced at £19.99.
This unicorn fairy garden is a wonderful idea to get kids into gardening at a young age. It is priced at £20 for children aged 6+ and comes from The Entertainer.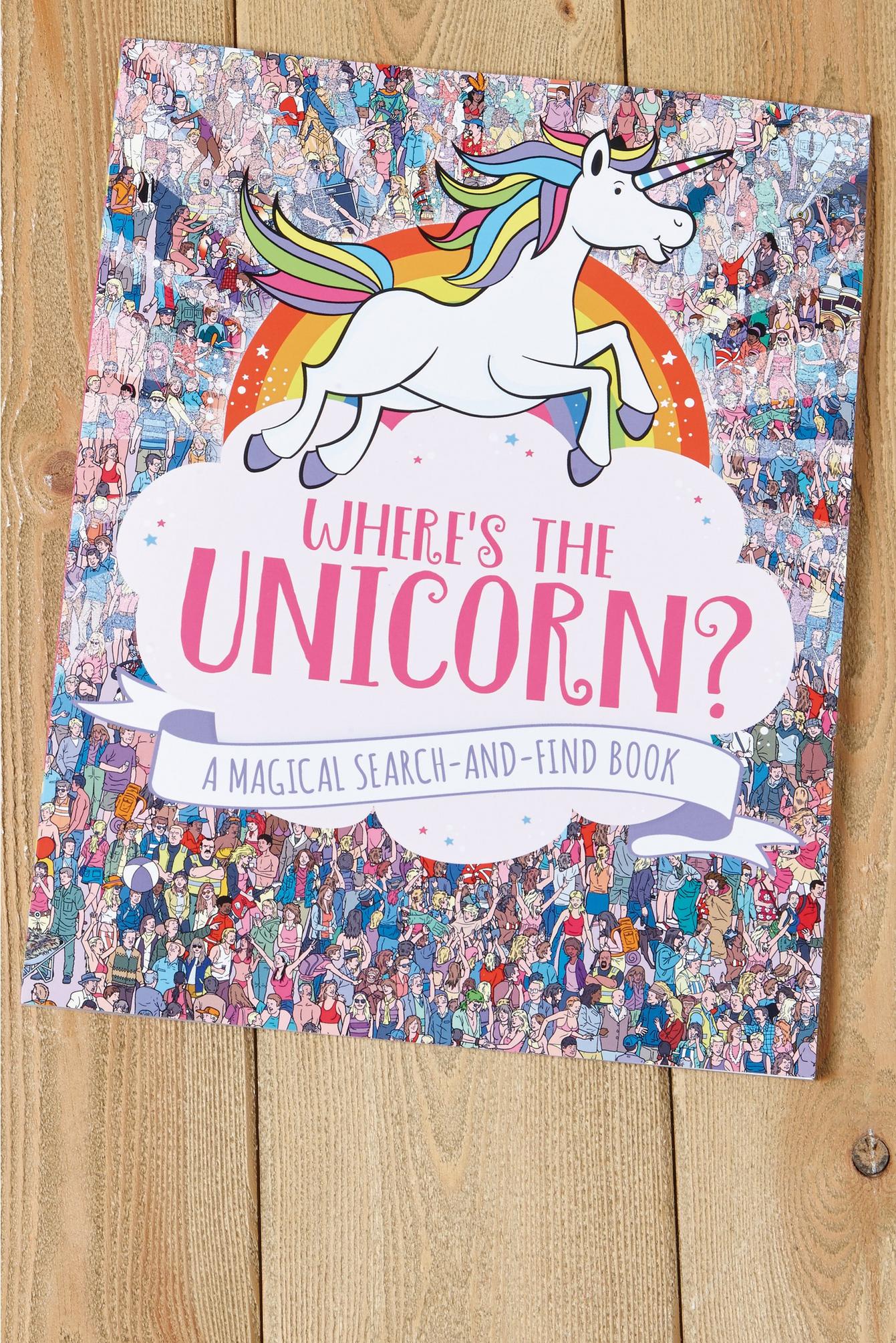 This book is a great alternative to where's Wally for unicorn fans! It is from Studio and is priced at £6.99.
This pedal-powered car looks amazing! It is priced at £49.99 for kids aged 3-5 years and from The Entertainer. 
Everything else!
Finally, we have the things that did not really fit into the other categories but still deserved a place in this guide. I, myself, am rather excited by the gin that I found!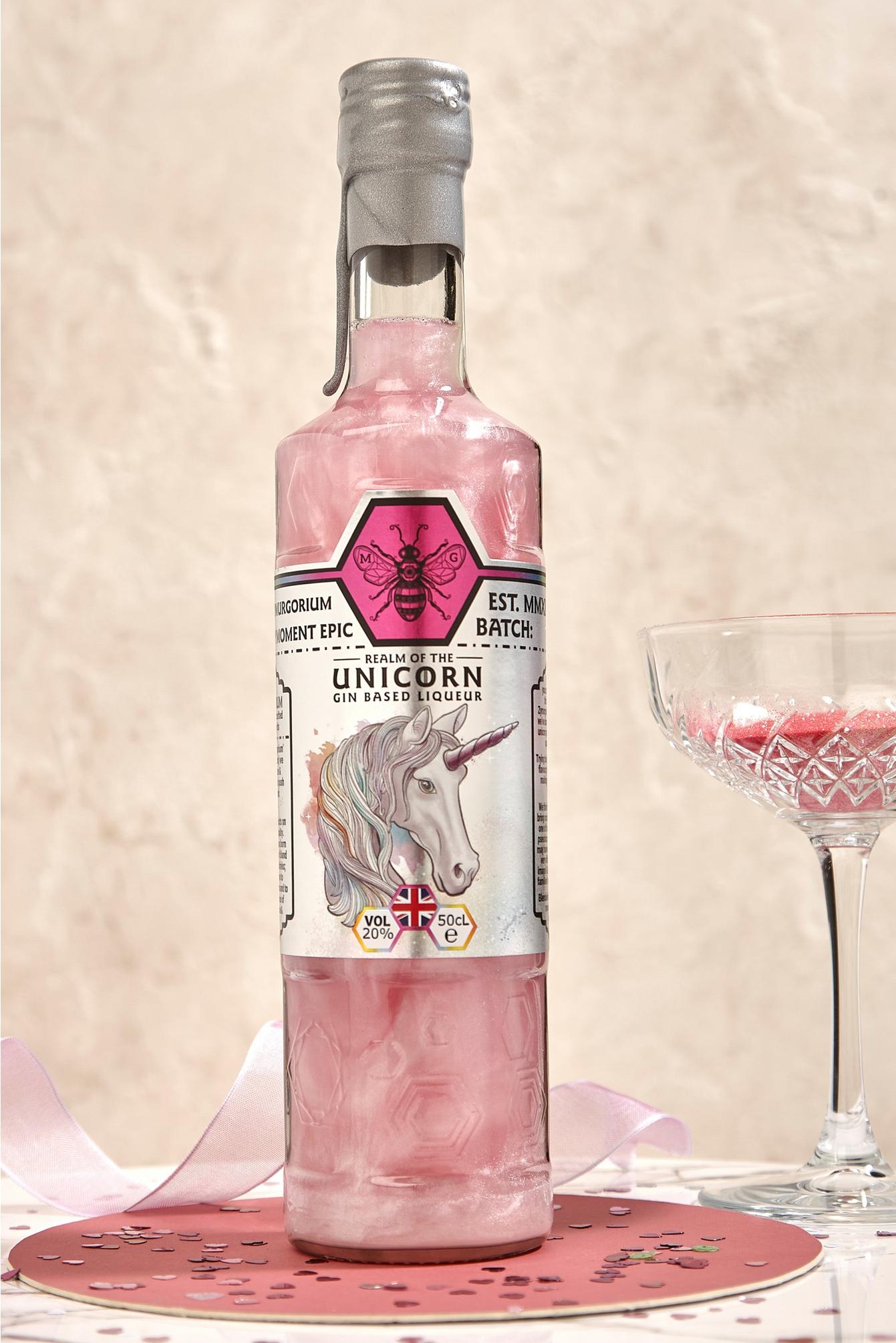 How amazing does this Zymurgorium Realm of The Unicorn  Gin Liqueur look? An adults only treat for sure! It is available from Studio and priced at £20.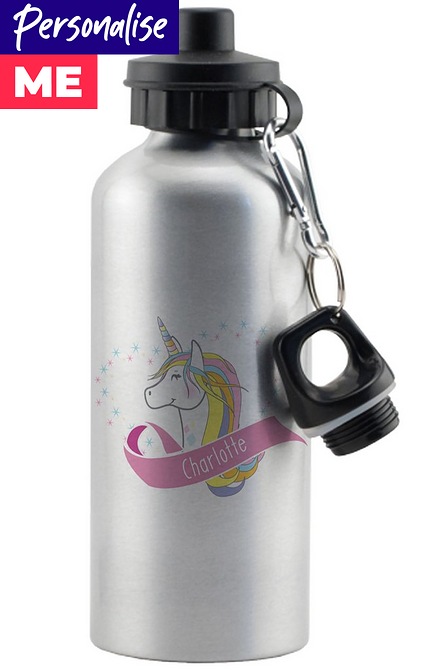 This drinks bottle can be personalised so no more mixing up drink bottles in school! It is £11.99 and available from Studio.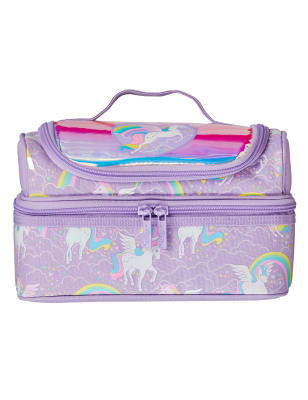 This beautiful lunch bag is insulated with two separate compartments. It is available from M&S for £18.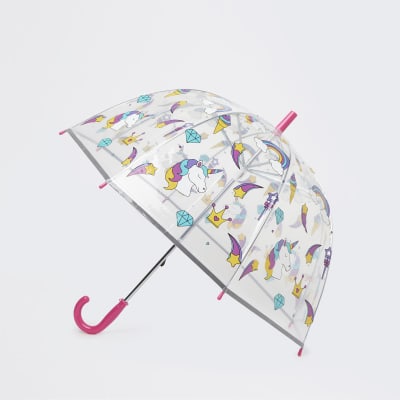 This umbrella looks fabulous so little ones can be dry and stylish! It is from River Island and is priced at £10.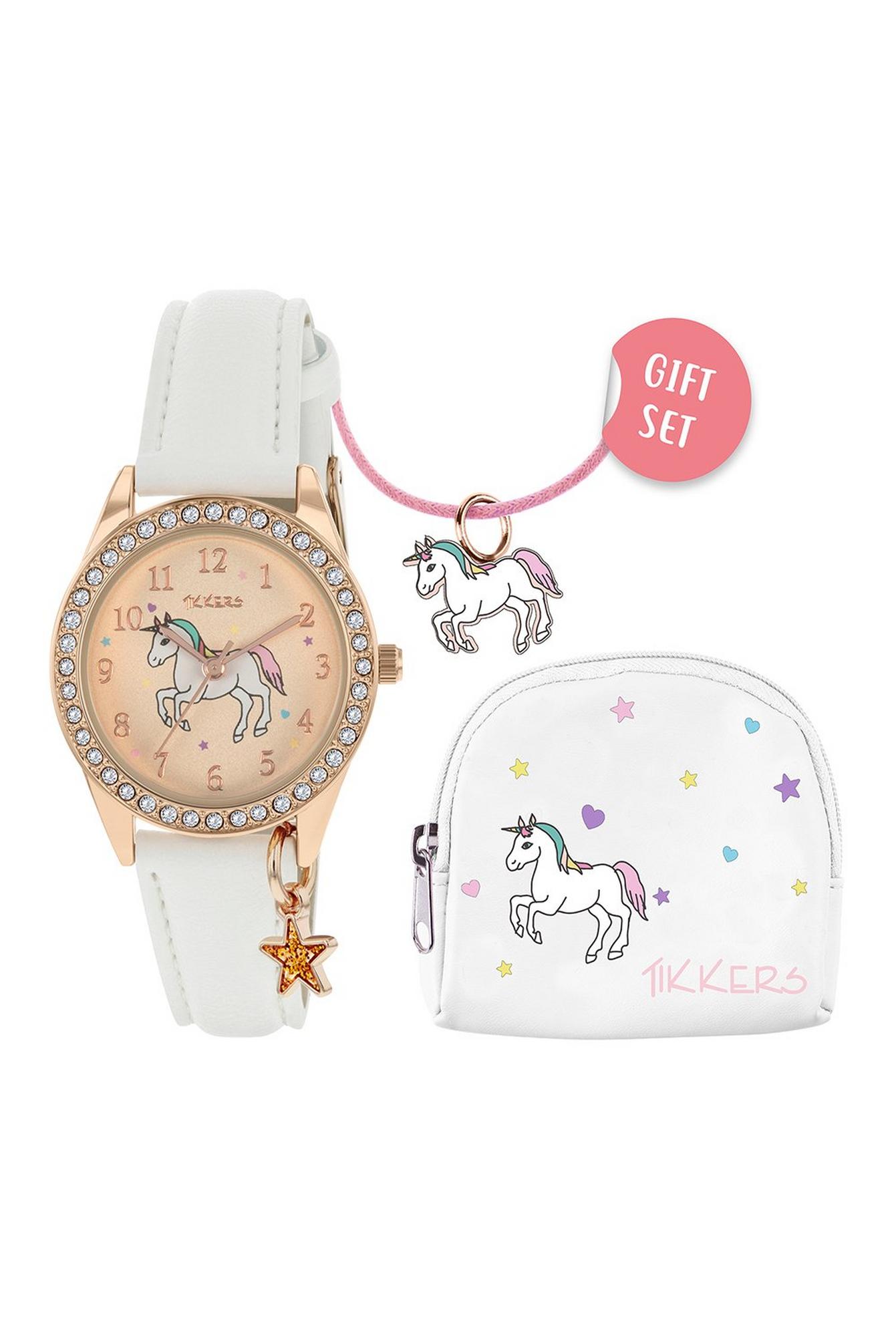 This super cute set would make a superb gift for any young unicorn fan! It is available from Studio and priced at £19.99.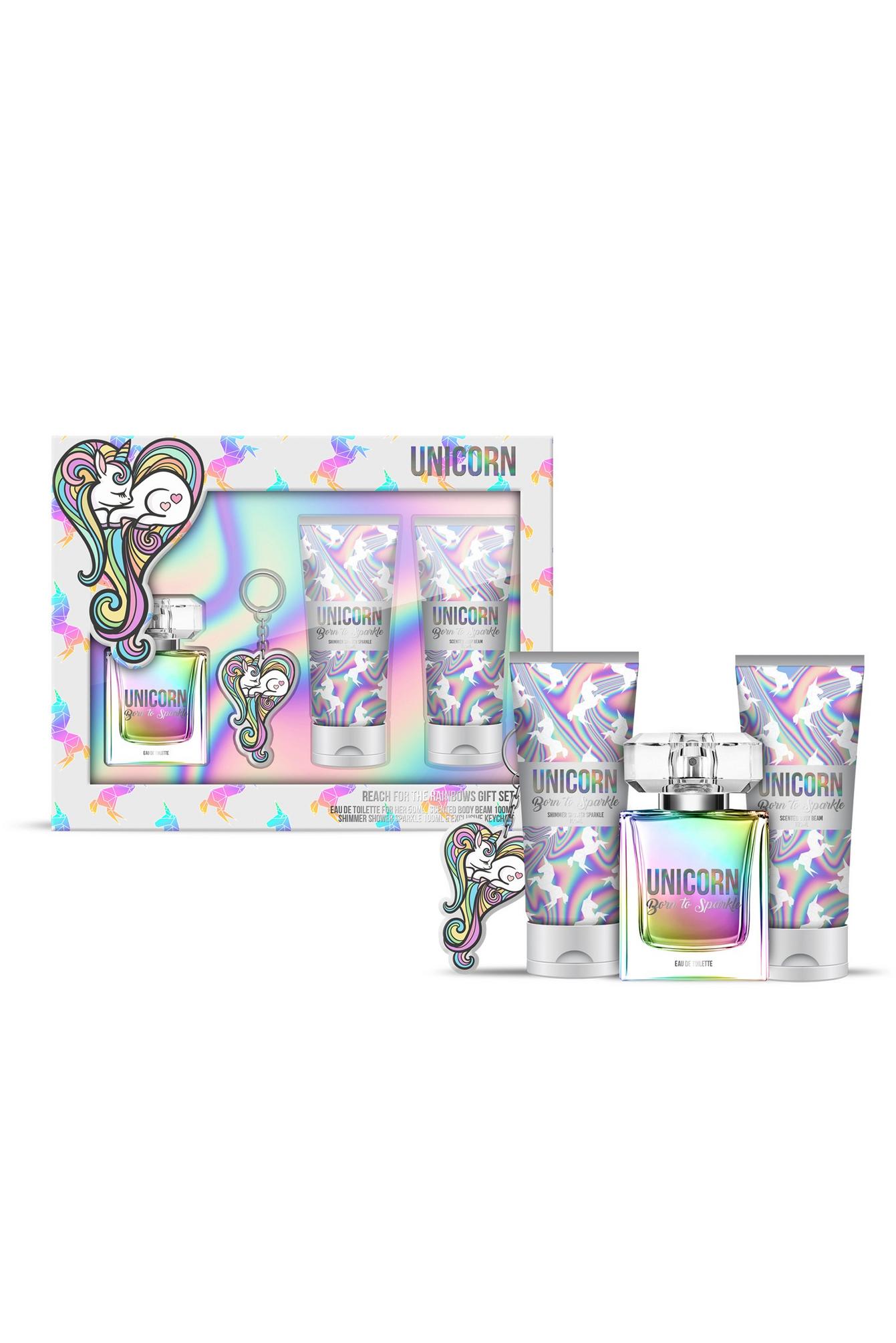 The perfect gift for the tween-aged unicorn fan. This gift set is available from Studio priced at £14.99.
Phew! Did you make it to the end of this post? There are 44 different unicorn-themed items in this post! If you like it why not pin it for later reference? Or share on social media!
What is your favourite item on the list? I would love to hear your thoughts.